Outstanding duathlon competition took place in Aktobe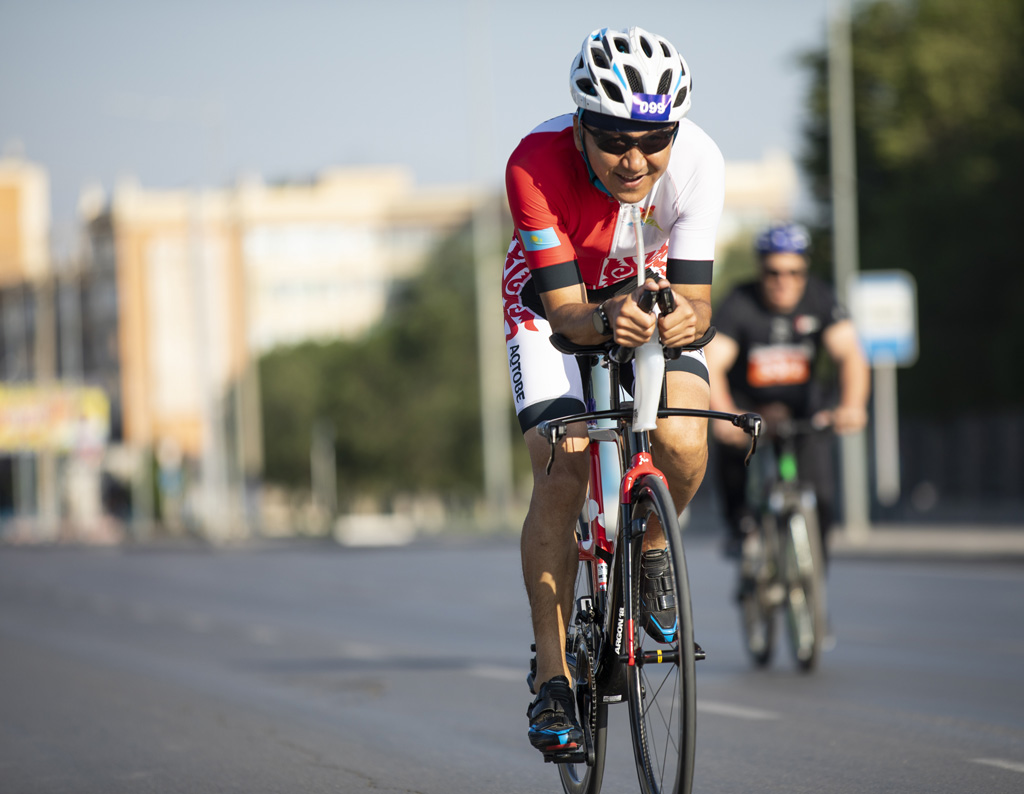 For the first time in Aktobe, the Kazchrome-DUATHLON 2019 competition was held. The event was dedicated to the Day of Metallurgist. Runners traveled 25 kilometers in honor of the anniversary of the Eurasian Group. City companies also took a call from Kazchrome and came to the start to participate in the «Relay — Corporation» and at the same time to congratulate the metallurgists on their professional holiday in an informal setting.
With the support of the city sports department headed by Evgeny Goncharov, the Triathlon Federation headed by Mirlan Mukhambetov (head of the Anti-Corruption Bureau of the Aktobe Region) and Serik Donbekbayev (vice-president for Finance of TNC Kazchrome JSC and Kazchrome itself, athletes had the opportunity to participate in an interesting event, test their strength and try to finish first.
Mavr Abdullin, mayor of the city, Arman Esenzhulov, president of TNC Kazchrome JSC and Zhalgas Musabekov, director of the Aktobe Ferroalloys Plant came to wish luck to the runners and cyclists.
Arman

Yessenzhulov

President of TNC Kazchrome JSC

I'm glad you're taking part in our contest. We decided to continue the professional holiday of metallurgists and hold such a competition. I am glad to see all the participants; there are a lot of them today. Have a good run, no injuries, and an easy start!
Kazchrome-DUATHLON Run 2019 is dedicated to the 150th anniversary of Aktobe and the 25th anniversary of ERG. Athletes covered 25 kilometers: first 2.5 kilometers of running, then 20 kilometers of cycling, and finished the distance of 2.5 kilometers running again. The participants competed for the title of the best in running and cycling for personal, open and team championship. TNC Kazchrome JSC was not only an organizing partner. Its athletes, who showed the best results, represented the company. Aktobe sportsmen and different organizations' representatives tried to overtake metallurgists. Participants from Eurasian Bank, KӨL Avto, Regional akimat, Central Group company and Kazakhstan-Aktobe TV channel took part in the event. In total Kazchrome-DUATHLON gathered 180 participants. Many agreed to participate in the event not for the sake of victory, gifts or medals, but to support the metallurgists and congratulate them.
Mavr

Abdullin

Mayor of the city

On behalf of all residents of our city, I want to congratulate the metallurgists on their professional holiday. We always support the organization of such major sporting events and hope that they will become a good tradition in our city. And sport will occupy a worthy place in the life of every Aktobe.
TNC Kazchrome JSC team showed excellent results — the first and third place went to the teams of the Aktobe plant, the second — to the Donskoy Mining and Processing Plant. Participants promised that they will prepare even more seriously for the next year and will overtake Kazchrome's employees at any distance.