Kazchrome arranged Ecotour for children from orphanages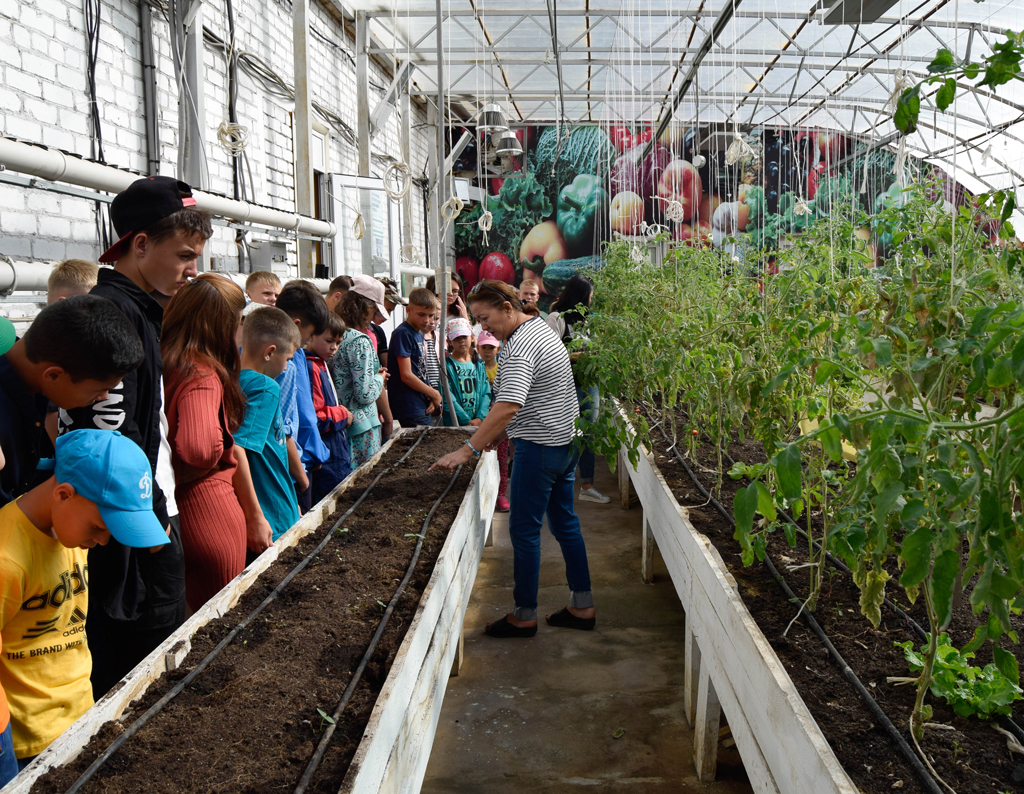 The children of "Tansholpan" and "Kulynshak" orphanages of Karaganda region visited the first "green village" of Kazakhstan — the village of Arnasay where the Green Technologies Center is located. "Kazchrome" arranged a useful and informative ecological tour for 40 children.
Environmental engineers of Kazmarganets Mining Enterprise — a branch of JSC «TNC «Kazchrome» arranged not only an entertaining charity trip for children from orphanages, but an ecological educational tour where the children were told about 'green' technologies and interesting trends in preserving the planet's resources. 'Arnasay' Green Technologies Center is a real treasure trove of valuable information. In the green village near the capital, interesting projects are concentrated that were understandable even to the youngest visitors. This is a phytodiode greenhouse, a solar bio-vegetarium, a fish-rearing complex with closed water supply unit. The center is equipped with 35 innovative 'green' technologies. These are pyrolysis heating, solar panels and collectors, LED and phytodiode lighting, energy-saving pumps, a solar well, an air ionizer and many more.
— The project of the same name 'Arnasay is the green village of Kazakhstan' has been implemented in the village of Arnasay, Arshaly district, Akmola region since 2015", — says Arsen Zhukeyev, environmental expert at the Kazmarganets Mining Enterprise. — It is noteworthy that local schoolchildren are actively involved in the work of the Green Technologies Center, on the basis of which innovative technologies for vegetable growing are developed and implemented. The entire territory of the building is used efficiently to the much possible extent. We reasonably chose this place for our ecological tour and invited children there. It is very important for the young generation to have an environmental culture developed since childhood and for them to be aware of such latest technologies that are aimed at preserving natural resources. There may be future researchers or environmental experts among them.
In Arnasay, the executive director of the Association of Legal entities "International Organization" Expo & Women Lyazyat Askarova met the children She took the children for a fascinating tour over the Center, where she not only pointed each technology in detail, but also answered questions of the children. She explained why it is necessary to save water and why it is important to save electric power.
Being impressed by what they saw many of the children intended to implement some trends at their orphanage. Ten-year-old boy Ruslan Seralinov, for example, had a burning desire to plant a houseplant and take care of it.
— A very useful tour, I saw many interesting things. Not thought, that even a basement can be turned into a greenhouse, and even rear there fish! — shared his impressions Ruslan. — On arrival at the orphanage I want to grow plants and take care of them.
After being acquainted with all the technologies of the Center, the children participated in a creative team building. The Ecotour route was completed in the capital. The children visited Independence Square, entertainment centers, and climbed the Baiterek monument.
— "Kazchrome" is not only deals with environmental action issues at its enterprises, we also interact with public organizations, implement projects and activities for young people and children, which are aimed at shaping a new environmental thinking. We want the future generation to treat natural resources carefully and consciously, — said Svetlana Mashchenko, chief ecologist of JSC «TNC «Kazchrome».