The "Public Control" project was presented to Head of State at Aktobe Ferroalloys Plant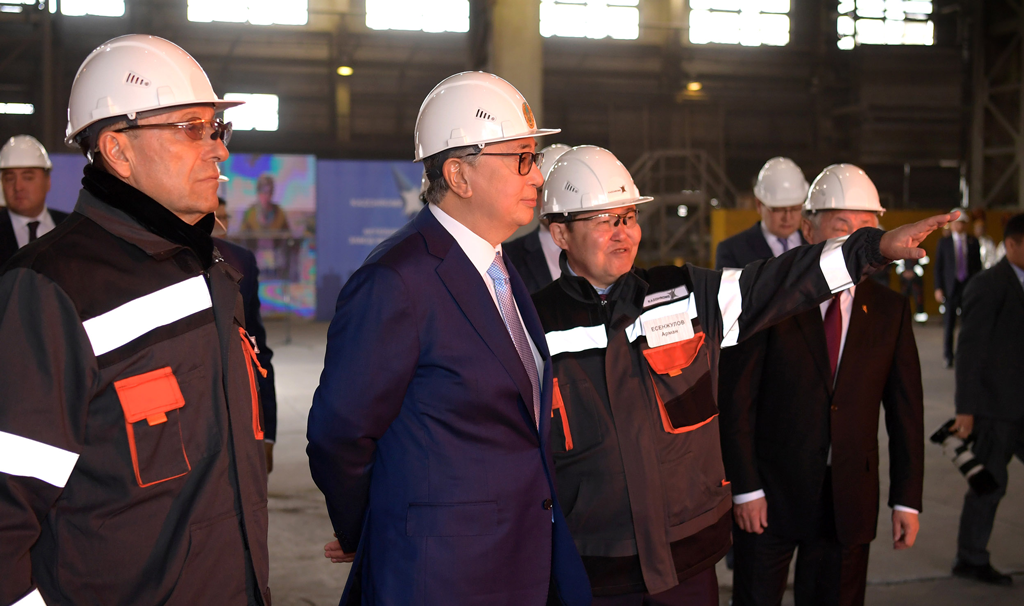 President of the Republic of Kazakhstan Kassym-Zhomart Tokayev during his working visit to Aktobe oblast presented a new pilot project "Public control", implemented at the Aktyubinsk Ferroalloy Plant of JSC TNC Kazchrome, which is part of the Eurasian Group (ERG). The initiative is designed to strengthen the supervision of safety and labor protection in the enterprise.
The President of Kazakhstan, Kassym-Zhomart Tokayev, has charged the Government of the country, represented by the Ministry of Labor and Social Protection, to work out the cascading experience of the ERG on video monitoring by people with reduced capabilities, for safety in the streets throughout the country.
Through the implementation of the project "Public control" ERG seeks to achieve its main goal in this matter — zero mortality and injury in the workplace.
The company analyzed the situation in each enterprise and came to the conclusion, that internal control over safety is not enough for its unquestioning observance.
Then it was decided to involve external observers for this purpose. Former employees of industrial enterprises with disabilities were attracted to the "Public control". The company invited these people to become "people's controllers" for Safety for Aktyubinsk Ferroalloy Plant.
The pilot project involved 16 operators. After the deployment of the full system will be 60 people. All work remotely — each operator monitors compliance with all safety standards at the factory using 13 cameras. They work in shifts — for 4 hours. Control is carried out around the clock.
Before the start of the project, future operators took training in regulations of industrial safety and basic computer literacy skills.
All controllers are registered in the state of the enterprise with all relying contributions and social package in accordance with the Legislation of the Republic of Kazakhstan.
The company provided controllers with all the necessary technical devices — laptops, phones, routers, Internet and telephone.
By the end of 2019, 14.1 million KZT was allocated for general technical expenses and payment for communications.
-The Eurasian Group has always invest heavily in its quest for zero industrial injuries, -said Alexander Mashkevich, Chairman of the Board of Directors of ERG.
— With the implementation of the People's Control project, we, on the one hand, provide jobs for socially vulnerable citizens, and on the other, we increase the production safety of our enterprises.
We are especially pleased that our project is compliant with the instructions of the Head of State, which was given last week at a meeting on employment issues — to ensure the inclusiveness of labor police, to provide specific employment mechanisms for people with disabilities.